Camp Sites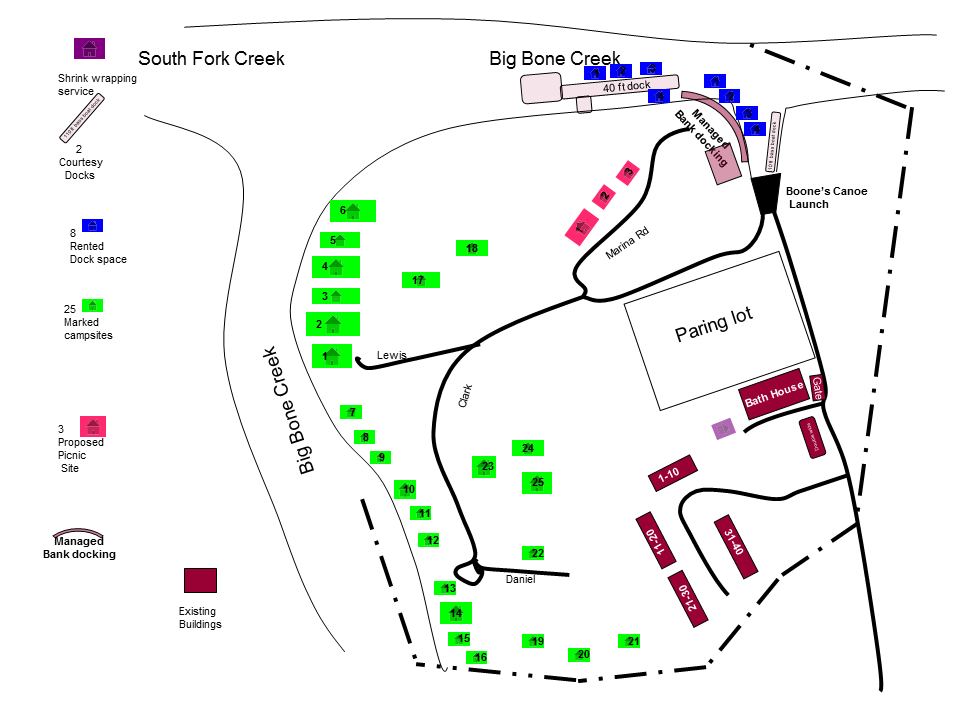 Click on map to reserve your site.
Creek side Campsites

(Tent only)

$25.00/night (up to 4 adults† per site)
Extra campers $5 per person per night. (max 6 adults per camp site)
Children under 12 Free

Primitive Campsites

(Tent only)

$20.00/night (up to 4 adults† per site)
Extra campers $5 per person per night. (max 6 adults per camp site)
Children under 12 Free
Day Visitors
$2.00/person (8am to 10pm)
†Adult is anyone 12 and older
Click here
Please abide by the following rules:
Speed limit is 5 mph.
A tent, a camping vehicle, a recreational vehicle, camping equipment, or other personal property shall not be left unattended longer than twenty-four (24) consecutive hours without written permission from the park manager.
Campsites are available on a first-come, first-served basis.
Check-out time is 1:00 PM


All items left behind will be desposed.

Check-in time is 2:00 PM.


All campers must register at the entrance gate or designated area.  
There shall be a fourteen (14) day maximum stay unless granted a waiver by the park manager for good cause due to an emergency or business necessity.

Campers shall keep their sites clean and dispense of refuse in the receptacles provided.
Tables shall not be moved from site to site.
Alcoholic beverages shall not be publicly displayed.
Fireworks are not be allowed at the campground.
A camper shall not deface or damage park property.
Dishes, pots, pans and silverware shall not be washed at spigots or in bathhouses.
Quiet time begins at 11:00 PM Campers shall not have visitors after 10:00 PM
Fires shall be restricted to fire rings in designated areas only and shall be attended at all times.
Vehicles shall be parked in campsite spaces and parking lots and shall display a "car pass" or "visitor pass".
Vehicles shall not block adjacent sites or roadways.
Campers shall not:


Hang lanterns on trees or shrubs
Drive an object into a tree, shrub, sign, building, or other object or structure in the campground;
Trench or dig in the campground.

Visitors


All visitors shall sign in and out, display a visitor pass, and obey all campground rules.
All day visitors must depart the campground by 10:00 p.m.

Pets shall:


Be kept on a leash or otherwise restrained at all times
Have current inoculations for rabies as prescribed by the camper's state of residence
Not be tied to trees or shrubs.
Campers shall clean up after their pets.
Campers unable to control their pets may be asked to leave the campground.

Central service buildings and other facilities in the camping area shall be for campers and their guests only.
A camper or a camper's guest shall not engage in fighting; threatening or abusive language; lewd acts, or conduct that causes public inconvenience, annoyance, alarm, unreasonable noise, or is disturbing to campground patrons. Failure to comply may result in arrest, fine, or eviction from the park property.